How to go on a workcation when you have kids
Published on Mar 15, 2023
Read about my experience of going on a workcation to Thailand with my family and get some tips how to make it a success.
Waiting for the anxiety to kick in
'Welcome to the year that will give you the most anxiety and stress in your life'. This was how the head teacher at my daughter's primary school started the Zoom presentation.
It was 1 a.m. and the alarm had just gone off. Even though I was in a different time zone, I knew I needed to educate myself about the German 'Förderprognose'.
I had ignored it until now, but it was time to face the reality of what my daughter, and we as parents, would be going through in the coming year.
It will soon be decided if our daughter will continue on an academic path, or if she will go to a school with a more practical direction.
She has ONE year to perform well if she wants to have more opportunities later in life.
She is 11!
'Thank God I didn't grow up in Germany', I thought to myself. At that age I had lost the 'oh how nice it is to go to school' feeling and was more interested in boys and dealing with drama among my girlfriends.
A few months ago, when I asked permission to take my daughter out of school for six weeks, the same head teacher wrote me a long list of reasons why it wasn't a good idea.
One reason was that it was in the middle of 'that important year for the kids'. But as he mentioned, 'maybe we are not so stressed about our child's grades as other parents are'.
I had no idea what I had in front of me. I didn't grow up in Germany.
Should I be stressed?
Will I regret taking my daughter on an adventure at the beginning of her most important school year?
Maybe.
Will she one day be upset when she finds out?
Maybe.
I leaned my head on the sofa in our villa on Koh Lanta while the headteacher shared numbers and percentages during the Zoom presentation.
I waited for the anxiety to kick in. I waited to feel regret.
Instead, my mind wandered off thinking about all the things my daughter had learned during our workcation:  
The courage to try something new (Thai boxing)
Focus and balance (joining me in yoga classes)
Confidence (rowing a gondola)
The beauty of nature (…everywhere!)
Adaptation (new teachers, new classmates)
Relaxation (first massage)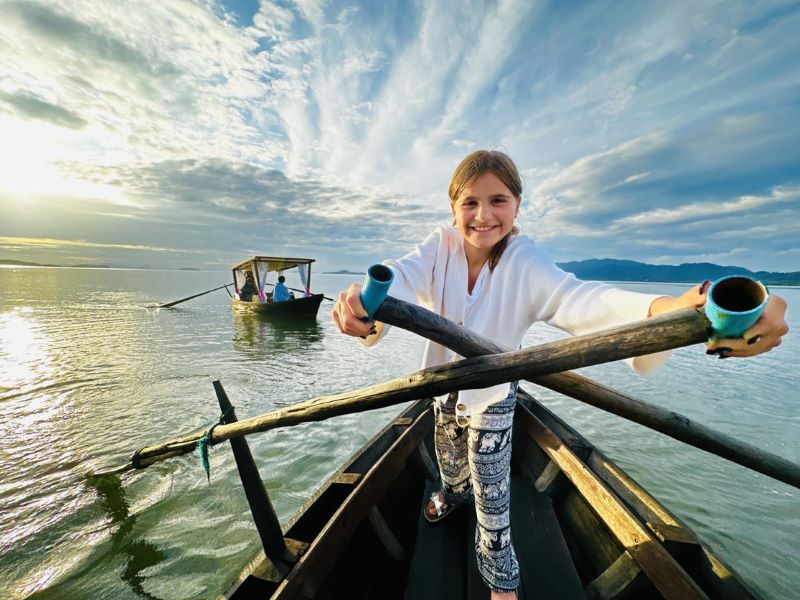 The anxiety didn't kick in, and I didn't feel regretful.
My daughter learned important 'life skills' that she will one day need to tackle the world out there.
Skills that will be helpful in any job she chooses.
Skills that will be helpful in all her relationships.
Once the presentation ended, I went back to bed with a smile on my face, feeling proud of myself for taking her on such an adventure. Proud of her for being open and curious about the world.
'You're going to have an amazing future girl'! I thought to myself.
Tips for a successful workcation with kids
Plan it at least six months ahead. You need time to get permission to take your child out of school (for families with school-age children), potentially find a local school for short-term enrollment, sort out how to work remotely and find a suitable place to stay.
Make a travel budget. Things end up being more expensive than you think. Don't ruin your stay by thinking about money all the time. Be prepared for how much things will cost.
Check with your child's current school. Ask early for permission to take your child/ren out of school. Make sure to give a good reason in your application letter.
Think about your family's needs. A comfortable home is important for a family's well-being. How many rooms do you need? Will it be okay to stay in one room all together or do you need more privacy as a couple and for work?
Check on the reliability of the internet connection where you plan to stay. Internet stability can vary greatly from place to place. If your work requires a good connection, ask about the internet stability in advance.
Decide on the best location for your family. What places do you want to be closest to? Walking distance to the beach? Restaurants? Cultural sites? Depending on the age of your children, your priorities might vary.
Taking my family to Thailand is one of the best decisions I have made in my life. We came here to recharge, refocus and reconnect as a family, and to individually get some alone time.
Have a look at my 'Take a workcation with kids' reel on instagram where you get to see our favourite moments.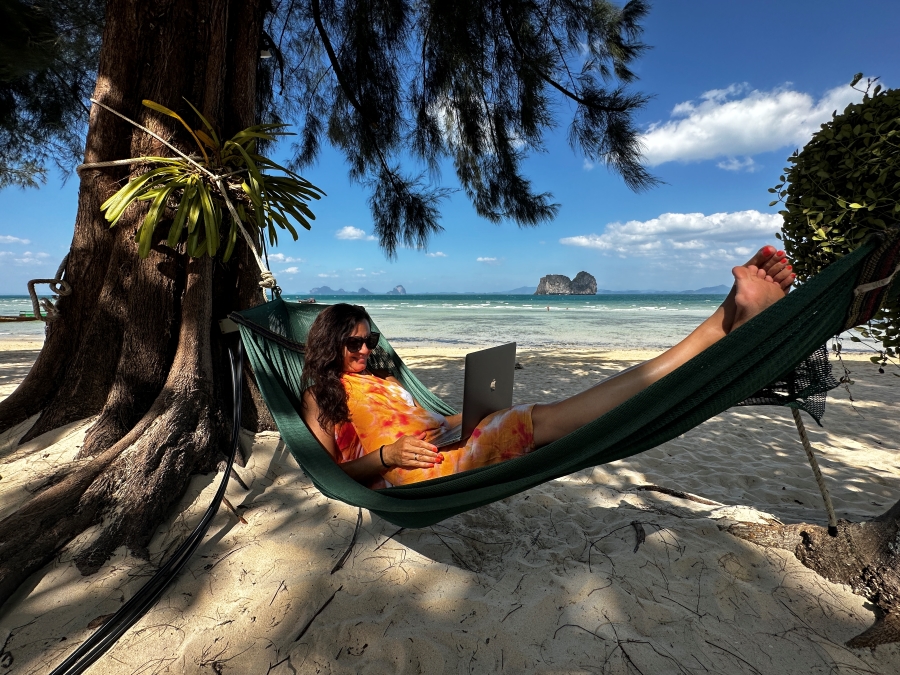 If you need help getting 'off the hamster wheel' and start doing the things you love, book a call with me here.
Love,
By signing up to receive my journal, you agree to receive emails from me. You can opt out at any time. I will manage all your data with care and in line with my privacy policy.
Hello, I'm Katarina Stoltz, a life coach and psychotherapist helping international professionals prioritise their well-being so they can achieve fulfillment without burning out.
Welcome to the 'Time To Thrive' blog, where I share real-life stories and offer valuable and practical tips for how to prevent burnout, expand your self awareness and start living your vision.
I don't offer 'quick fix' solutions, but my tips are straightforward and easy to follow. You're in the right place if you're looking for some thought-provoking articles and honest life stories.
I'm happy you're here!